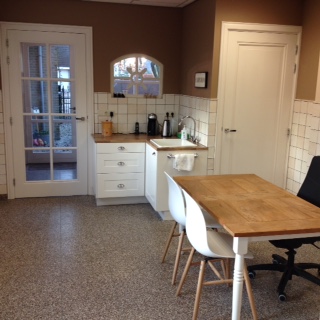 Wat is natuurgeneeskunde?
Welzijn en gezondheid van een dier hangt samen met het in balans zijn van alle verschillende lichaamsfuncties. Naast het fysieke lichaam is tevens het emotionele aspect alsook de omgevingsfactoren van invloed op de klachten die een dier vertoont. Binnen de natuurgeneeskunde wordt gekeken naar dit geheel van factoren zodat de balans hersteld kan worden en een herstel van het dier of verlichting van de klachten bereikt kunnen worden. Hierbij wordt het dier gezien als individu met zijn unieke kenmerken.
Wat kan je verwachten van een natuurgeneeskundig consult?
Binnen het consult wordt gekeken naar het totale dier met zijn klachten. Daar waar een dierenarts vaak symptomen bestrijdt, probeer ik te kijken naar de oorzaak achter het probleem om vervolgens deze aan te pakken. Dit zorgt voor een langdurig resultaat.
Een consult duurt 1 tot 1,5 uur en bestaat uit een vraaggesprek en een lichamelijk onderzoek van het dier. Bij dit lichamelijk onderzoek kan ik tevens een inschatting maken over de toestand van organen door gebruik te maken van bepaalde meet apparatuur. Mijn advies zal bestaan uit maatregelen die ervoor zorgen dat herstel bereikt kan worden. Daarnaast worden er natuurlijke middelen ingezet. De middelen die gebruikt kunnen worden zijn bijvoorbeeld kruiden, mineralen, bach bloesem of homeopathie.
Ik behandel alle diersoorten en het kan hierbij gaan om lichamelijke klachten en/of gedragsklachten. Je kunt ook bij mij terecht voor adviezen omtrent bijvoorbeeld voeding of vaccinaties.